When producers deliver soy at the Saint-Urbain-Premier premises, a sample is analyzed to classify the product and determine if it meets Ceresco's quality criteria.
Before conditioning a particular soy variety, all the equipment is carefully cleaned to avoid any contamination from other varieties. Ceresco employees then proceed with conditioning the soy with great care to reject any non-compliant grains and foreign matter. While some competitors cut costs by using just a few of these machines, at Ceresco we use them all.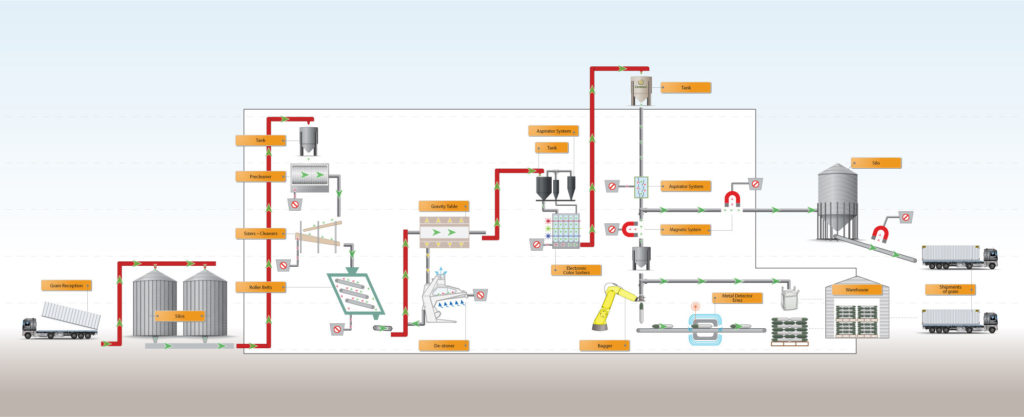 Pre-cleaner

Capacity of 25 metric tons per hour – Used to reject pods, large foreign matter, dust and more than 60% of split grain.
Sizer-Cleaner

Two sizer-cleaners of 9-metric tons per hour capacity – Used to size soy grain and reject split grain (Total capacity 18 tons per hour).
Roller Belt

Three units of 6-metric tons per hour capacity – Used to reject imperfect grain, sclerotinia, foreign matter and split grain (Total capacity 18 tonnes per hour).
Gravity Tables

One gravity table of 15-metric tons per hour capacity – Used to reject overly light and cracked grain and very heavy materials such as stones (Total capacity 16 tons per hour).
Stoner

Capacity of 2 metric tons per hour – Used to reject small stones and ped soil and to process waste rejected by the gravity tables.
Electronic Colour Sorter (Scan)

Soy grain that does not meet colour specifications are removed by this machine's slots, one by one! Soybeans that are stained, immature, dark-coloured or any foreign matter is rejected by one of the two operating sorters; each with a capacity of 8.5 tons per hour.
Blowing System (VDMC)

Capacity of 20 metric tons per hour – Used to reject soybean hulls (shells) and dust.

Magnetic System

Magnets are used throughout the process to reject any metals that may have accidentally fallen with the soybean. Furthermore, a state of the art ''Metal Detector'' is used at the very end of the bagging process for a final assurance.
Bagger PTH-920

Andy 200i is our first robot! It is a completely automatic bagging system. The robot's mission is to ensure that the quality and consistency of the bags is perfect. This advanced equipment can bag up to 17 bags per minute. Ceresco's investments in new technologies is testament to its drive to always improve quality standards.
Palletizing System

The new mechanized palletizing system provides a rate of up to 22 bags per minute. Although the default configuration allows stacking 8 rows of 5 bags, it can always be modified to meet your needs. The installation of a cellophane wrapper is fully automated and it ensures obtaining uniform and clean bags.
Discover our
Soy